A Mystery to Me
Meet Glenn, Vanetta and Teresa: Three vibrantly unique individuals navigating three separate lives as they look for shared hope in the face of incredible adversity. A Mystery to Me is a window into their worlds. Our team, led by Director Ben Strang, produced this short documentary series to give viewers a personal, poignant and heartwarming entrée into the realities of living life with a rare and mysterious disease:  Myasthenia Gravis.
Series Synopsis
A Mystery to Me is a short documentary series about navigating life with Myasthenia Gravis — a rare and mysterious autoimmune disease that causes muscular weakness.
Symptoms vary from patient to patient, day by day, and even hour by hour. This mysterious and confounding disease state is the crux of our series. Each episode explores the central question: How does one live life when it feels like that life is constantly being taken away?
Vanetta, a personal trainer and new mother, relies immensely on her own physical strength for her livelihood. Teresa, a single mom and dance teacher, says her relationship with her three children is the main thing that has kept her alive. And Glenn, a former fire chief grappling with retirement , has had to learn to care for himself as much as he has always cared for others.
Exploring how each of these individuals meet the challenges of their new (and constantly changing) "normal" is a tribute to their indomitable spirits, and the dedication of those who support them.
Technical Details
Format: Documentary Series, 3 Short Films
Length: Each film is approximately 15 minutes
Language: English
Year of production: 2020
Press Kit (downloadable)
You can register to view the three documentaries online at MG-United.com.
Vanetta ♥
It was only by sheer luck that Vanetta's life was saved at age 16. Now, as a fitness professional and mother, Vanetta must reckon with the immense sacrifices the people closest to her have made to keep her alive.
Based in Westchester, NY, Vanetta tells stories of unbelievable dedication. She was diagnosed  with MG at 16. Years later, shortly after she started dating her now-husband Christian, Vanetta's  symptoms worsened, putting her in the ICU.  During this crisis, Christian never left her side.
Now past some of her worst days, Vanetta has fully given herself over to a new ambition: She launched a physical therapy business called But I Am Strong  to provide the level of dedication and support she received from her friends and family, to other people in need.
Vanetta's truly exuberant aura, her ability to inspire, and her unshakeable belief in the power of loyalty absolutely shine out in this piece.
Glenn ♥
As a lifelong firefighter, Glenn spent 30 years pulling people out of burning buildings. But MG brought those heroics to a screeching halt. Now on the eve of retirement, Glenn must face the notion that the person who needs rescuing the most, might be himself.
Glenn is a humble hero. He'll say he just doesn't see his life as all that interesting–right after telling a career's worth of harrowing firefighter stories about pulling people from burning buildings.
A grandfather and former fire chief, Glenn's passion in life is his family, both the one at home and the one at the fire station. As a fire chief for many years, Glenn's MG diagnosis put him in a terrifying predicament. Was he going to have to give up the job he loved? Was he going to let  his family of firefighters down? Because of MG, Glenn no longer puts out fires himself, but rather, stays active by monitoring radios for emergencies. When he feels well enough, he rides in the fire truck on calls. If Glenn's not at the firehouse, you'll most likely find him  with his grandchildren, whom he adores.
Glenn's immense dedication to his team and his willingness to tackle the challenges of this next chapter in life are truly inspiring.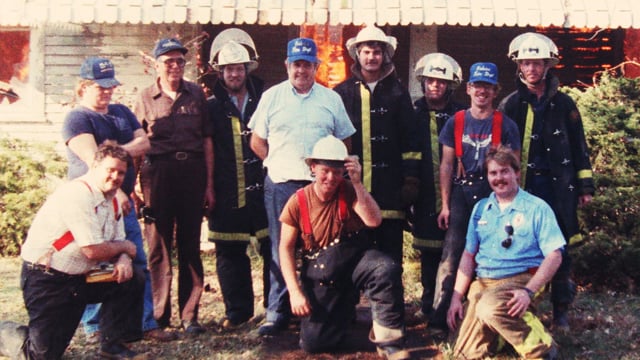 Teresa ♥
Told to quit her job and to go on disability when she was 28, Teresa instead chose to blaze her own trail as a small business owner and mother. She must now confront her greatest challenge yet: Imparting the lessons she has learned to her children.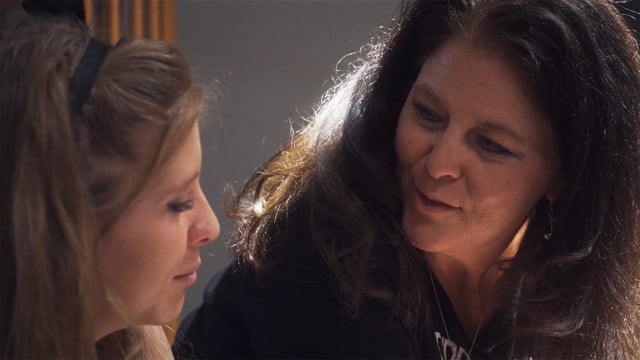 For Teresa, motherhood is everything. Her passion for dance and embracing life's moments stems directly from her complete dedication to providing a vibrant and happy life for her three children. This commitment has helped her through the most difficult days of her disease.
Diagnosed with MG when she was only 21, Teresa's achievements are remarkable in the face of unimaginable physical challenges. Teresa spent the better part of three decades building a highly respected performing arts center in the suburbs of Denver. She has been unstoppable, both in her relentless support of her students and in her steadfast dedication to her family.
What we love about Teresa is the uncompromising vision with which she has defined her life. She has never taken "No" for an answer.
About The Production
Our development of this series was guided by one word: Empathy. We wanted our series to feel relatable and compelling in its vulnerability. Our subjects represent the huge and often-unseen group of people who live with the challenges of misunderstood chronic diseases. These people deal daily with the impacts of these diseases in every aspect of life.
We interviewed over 100 individuals with MG, traveled the country to meet them, and ultimately chose three inspiring stories that show the scope of this illness and its impacts. Our overall mission? To answer the question: How does MG affect careers, family dynamics and overall life trajectories?
Pandemic Mode
Much like the rest of the world, our production schedule came to a grinding halt in April of 2020… right when we were about to travel for the first day of film production.
The new limitations posed by the COVID-19 quarantine pushed us to innovate and create in ways we never thought possible. Director, Ben Strang and cinematographer, David Bolen swiftly set a plan in place to make the filming of a documentary during quarantine possible. Each documentary subject received a Wi-Fi-controlled camera and sound recorder, and were prepped on how to operate the cameras themselves. After rigorous prep with David and pre-boarding each film in its entirety Ben then directed the entire production remotely via Zoom.
What surprised us most was how excited our subjects were to participate in such a tactile way in the production of this series. No documentary is possible without great subjects, but this documentary in particular would have been impossible without Vanetta, Teresa and Glenn's immense proactivity, enthusiasm and persistence. They were as much a part of the film crew as they were subjects and we're so proud of the subtle moments we collectively captured together.
In the compelling behind-the-scenes videos below, the team reveals some of the challenges they faced researching MG, understanding its effects, and filming their subjects during the COVID-19 pandemic.
Reflections
"How do you humanize a disease? How do you compel an audience to learn about a life experience that is essentially distinct from their own? Vanetta, Teresa and Glenn did that for us. Their MG stories are about the same highs and lows that every single person on earth experiences and can relate to: Family, passion, grief, revelation, and ultimately, joy."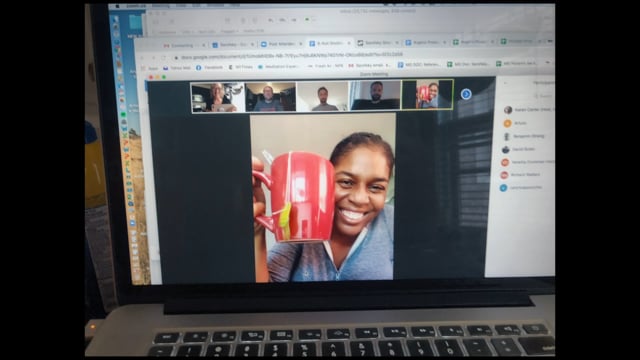 We have been amazed and delighted by the response to these films–both from the MG community and the film community at large.
In October, 2020, episode one, featuring Vanetta, premiered at the Chicago International Film Festival and was in competition in the short documentary category.
The next month, all three films premiered online at MG-United.com. Thousands (yes ,thousands!) of people registered for the event: 8,549 people to be exact, making it what is believed to be the largest ever gathering of the MG community. Feedback online left us speechless because so many people were compelled to share their very personal MG stories. Not only that, but friends, caretakers and family tagged people in their circles who are battling MG, encouraging them to watch these films as well.
"This film was exactly what I needed to see, there really is hope for a good life."
– Andrew J, MG Patient
"I was diagnosed at 15 years old (I'm 22 now). It's been so hard to deal with, so watching this movie and finally seeing other people that go through what I do, moved me to tears."
– Jess B, MG Patient
"This was a beautiful and informative film. As a friend to someone that has MG it was a wonderful perspective to have so I can be more supportive. Thank you for this piece."
– Dee, MG Supporter
Adding even greater visibility, after Green Bay Packers player Dexter Williams and his mom Cheryl Williams saw the film, Cheryl was prompted to share her own MG story. Dexter used his platform, and his cleats, to continue to raise awareness for MG and the film series. Picking up on this, Sports Illustrated and Forbes both published awesome stories, boosting awareness of MG to even wider audiences—our entire purpose for making these documentaries.
We are thrilled that our subjects have been asked to contribute to the conversation, adding even more awareness to MG.
Featured in a segment on his local news station, Lex18News in Lexington, KY, Glenn Phillips spoke eloquently about his hope that the series will provide greater understanding. "If we can educate caregivers, co-workers and even the medical community about how people deal with life–and even can't deal with life, because of pressures, pain and weakness [as they cope with MG,] I think this docu-series may do an awful lot of good."
Here is that segment:
Proud ♥
"This documentary coming out was so important to bring awareness to the MG community in so many ways."
For Additional Inquiries About A Mystery to Me
Project Credits
Directed By

Ben Strang

Produced By

Erin Sarofsky

Karen Carter

Executive Producer

Steven Anderson

Consulting Producer

Director of Photography

David Bolen

Edited By

Manuel Crosby

Music by

Bobak Lotfipour

Casey Trela

Post Supervisor

Marisa O'Hara

Post Producer

Joel Signer

Camera Assistant

Arturo Ochoa

Additional Camera Assistant

John Houston
Sound Recorder

Richard Walters

Assistant Editors

Diana Lee

Meaghan Rahamut

Supporting Editorial

Joan Laduca

Tom Pastorelle

Mix By

Sound Department

Colorist

Arianna Pane

Flame Artist

Cory Davis

Storyboard Artist

Brian Vincent Rhodes

Designers

Cat McCarthy

Griffin Thompson

Technology and Support

Mark Galazka

Kenny Albanese

Photographer

Erika Larsen

Photographer Assistant

Andrianna "Andy" Mereuta
Featuring: Vanetta Drummer-Fenton, Christian Fenton, Vanessa Drummer-Harvey, Teresa Hill-Putnam, Amber Mackenzie, Ashley Walter, Caleb Walter Joshua Putnam, Ronan Putnam, Denis Hill, Glenn D. Phillips, Virginia Phillips, Howard M. Fallis Jr., Cheyanna Raychel Garza, Dominic A. Garza, Wyatt Clay "Rabbit" Bowles

With Production Support from closerlook: Ryan Mason, Jim Kelly, Chelsea Patton, Chrissy Steger, Carrie Lewis, Mackenzie Nickens, Parker Gibson, Susan McCarthy, Stacy Collins

Publicity Support by Syneos: Stephanie Bukantz, Kelsey Kirk
argenx is a global immunology company and the sponsor of A Mystery To Me.
Special Thank You: Tim Van Hauwermeiren, Keith Woods, Rebecca McLeod, Albert Kovera, Katherine Perez, Beth DelGiacco, Alyson McNamara, Emily Putnam, Mary F. Drummer, Richard Maxfield, Jordan Reader, John Drummer, Brian Steele, Nylah Wilkins, Beverly Gibbs-Drummer, Isaac G. Garza, Diana Northington, Minnie Drummer, Yuvette Scott, Sahavone Northington, Raquon Stainback, Tasha Moore- Rollins, Alvin Northington, Milton Rollins, Trennace Gallatin, Fitzroy Hunte, Nadine Drummer, Yuvette Scott, Kenny Harvey, Tema Roman, Pat Wilkins, Saequon Drummer, Paul I. Wilkins III, Patryce Wilkins
Thank you: Mark Mitten, Alexis Rodriguez, Andrew E. Kaufman, Nga Nguyen, Alicia Angel, Kait Masters, Ashley Carriero, John Jeskie Jr., Kim Vigil, Maria Zepeda, Randy Miller, Teresa Caldwell, Paula Gregory, Tameika Isaac Devine, Victor Yipp, Haley McCool