Babybel
Havas's mission was to create a series as fun and irreverent as CG animations for Babybel. They wanted the products to be the main characters, but to remain photo real, which was a wonderful challenge. Our solution? Give those iconic Babybels some sass when we animate their movements.  
Fun Irreverence
For bright and bouncy fun, computer generated (CG) animations do it best. Make that photo-real CG, and the options get more interesting. Havas Chicago's mission for us with a series of spots starring Babybel cheese products was, "fun irreverence." They wanted the CG animated cheeses to be the main characters in the commercials, photo real and playful—a wonderful challenge.
To set the right tone throughout, we created a minimal world for each product, with predominantly white space as the perfect background for the bright red pops of color. A great chance for us to showcase our CG skills, the finished commercials perfectly capture how in our best work, we play.
Thinking it through, the iconic, red-wax coating bitty Babybel cheeses are known for, gave us an idea: What if we created an entire cast of wax-dipped characters, and had them dancing in Dairyland, swinging in playgrounds, picnicking with crackers? 

Once we decided to go all out with that iconic red wax, everything else fell into place. We started with the cows, and then had the little cheeses unzip to become flowers, and then re-imagined  birds as little flying Babybels…it was all just magic.
To introduce Babybel Bio, a 100% organic-milk cheese snack, we sent a wheel of the cheese rolling down grassy hills blooming with Babybel flowers, past grazing red-wax cows with Babybel birds flying overhead.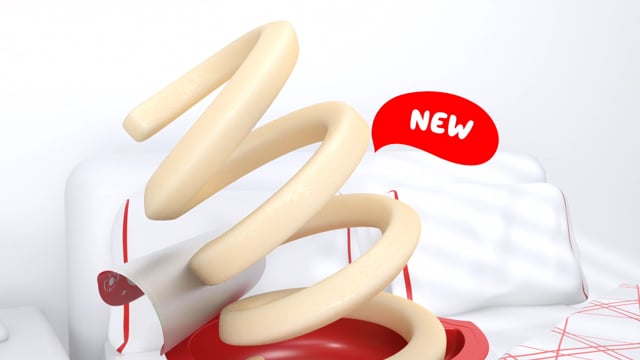 For Babybel Mini-Rolls kids' cheese snacks, we sent the cheesy spirals springing from school bus to playground.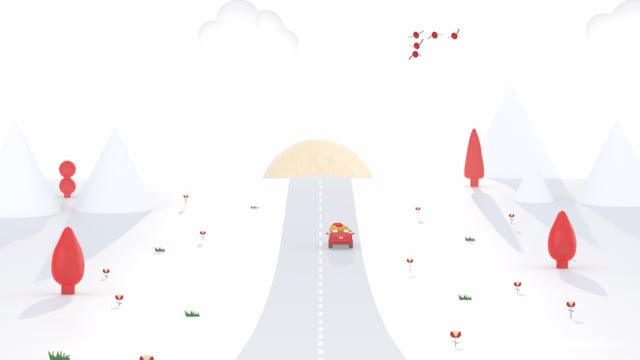 For spots introducing Babybel Cheese & Co snack packs, a mama Babybel pushes cracker-ettes on the swings, picnics with the rounds, and drives across a landscape of red-waxed trees into a cracker sunset.
Babybel For Social
For social media, the classic red-wax-zipper that opens each Babybel cheese becomes a hand holding a balloon-cluster of Babybels in one spot, and a farmer with his rake in another.
Project Credits
Executive Creative Director

Erin Sarofsky

Executive Producer

Steven Anderson

Senior Producer

Dylan Ptak

Creative Lead

Duarte Elvas

CG Lead

Jake Allen

Motion Designers

Tanner Wickware

Dan Moore

Stewart Rosburg

Matt Miltonberger

Spencer Seibert

Andrew Hyden
Client Credits
Agency

Agency Producers

Bridget Danko

Natalie Turner

Agency Creative Director

Kate Delaney

Client