Community
Who'd have thought it would be a cootie catcher? But prepping the title sequence pitch for Dan Harmon's TV comedy series Community, that was the zany idea that won out over the rest. Because the show was set in a sleepy community college, we first imagined the hallways of beat-up lockers, linoleum-tiled floors and cafeteria food. We saw the piles of college rejection letters on teens' bedroom desks, the slowly oscillating school office fan. And on top of all of that? We saw the silly games teens play out of sheer boredom—like cootie catcher.
The Idea
"You remember cootie catchers," says director Erin Sarofsky. "Those paper fortune tellers you'd make and fold over your fingers. Your friends would pick a number and you'd flip them open to show the hidden message you'd written there. I thought they were the perfect metaphor for the show and its group of misfit characters."
The show runners thought so too. Executive producers/directors the Russo Brothers loved the idea. And both NBC and Sony Pictures signed off swiftly. 
Running with the theme, our fast-moving sequence opens with the four-pointed star of a cootie catcher, flipping and turning to a bouncy track of "At Least it Was Here," by The 88. With each musical shift, flaps lift to reveal titles:  Joel McHale with a Kilroy doodle, Danny Pudi in a game of hangmen, Yvette Nicole Brown, with a knife-slashed birthday cake, and Donald Glover, with dueling bumblebees.
The Russo Brothers were so pleased with the Community title sequence, it became the start of our great, and ongoing, collaborative relationship. 
Proud ♥
"We had such a strong reaction to the ideas Sarofsky presented for Community, and that just carried forward. We are so in love with the work that they do, we've just been doing job after job with them.
Sarofsky has such an interesting combination between showing you something that's out of the box, but at the same time remains thematically or stylistically relevant—cohesive to whatever the TV show or movie happens to be, while at the same time being unexpected. It's a very difficult balance, but a sweet spot to strike because they are giving us something that excites us creatively—something different and unique, but that is still an extension of what we were doing that we didn't envision or think of."
Genuine Production Pipeline
Making the cootie-catcher title sequence for Community was like craft day at the recreation center. We pulled up chairs to fold dozens of catchers.  We brainstormed and doodled themes for each title and character.
And to give them just the right amateurish touch? One of our staff—who had no illustration experience, did the final drawings with a Blue Bic Cristal ballpoint stick pen. 
With drawings ready, we scanned and placed the titles on the surface of a cootie catcher in 3D. And adding more fun to the finish, we composited in After Effects with the catchers placed in the actual library set where much of the series takes place.
We also carved into the tops of the school desks, to give them a more authentic look and feel.
But We Didn't Stop There
As some super fans may have noticed, we created custom cootie catchers for the acclaimed "Halloween" and "Dungeons and Dragons" episodes.
For Dungeons, we embraced our inner nerds, thought back to our younger years and drew up inspired illustrations of dragons,  warlocks, treasure chests and trolls.
On Halloween, we go all out at our studio. So it is no surprise  that when Dan asked us to brainstorm around that holiday, we dug in for days. We love the cootie-catchers they chose, but also wanted to share some of the amazing works of art that didn't make it into the final piece. Keep scrolling for those gems!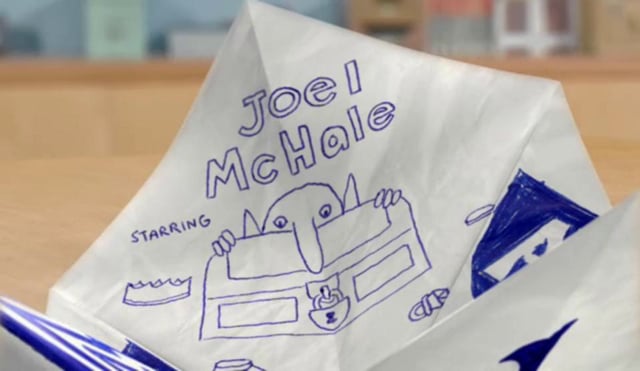 We have an amazing box chock full of cootie catcher "extras," each covered with fun illustrations. Take a peek at some of our favorite castaways.
And, speaking of super fans…with Community's release on Netflix, there's been a new wave of watchers. We love the fan art we've seen from a bunch of them who have doodled character titles of their own.
Dan Harmon shared John's remake on his Instagram page and said "I've seen more than a few of these recreations and all of them are so impressive. I always felt like Community attracted more creative, crafty types to its fandom and I think the credit goes to the visual artists that worked on the show. Shoutout to Erin Sarofsky and her team for creating this title sequence and replenishing it with endless doodles for special episodes and the new cast. I wonder if the dozens and dozens of unused options for every cast member are out there somewhere. My favorite was the baby bird holding up a car for Dean Pelton."
Bonus Scoop
In addition to the title sequence for Community, we also created The Russo Brothers/ Dan Harmon's production card–or more appropriately, cards. Keeping the handmade theme going, we created a handful of them so that every week a new one would appear.
Final Thoughts
"Great ideas are everything. Making something look good isn't good enough. If you don't have a really strong idea, you don't have anything."
Project Credits
Creative Director

Erin Sarofsky

Executive Producer

Louise Krakower

Rachel Steele

VFX Director

Scott Stewart

VFX Supervisor

Andre Zazzera

Technical Director

Eric Thivierage

Compositor

Matt Crnich

Illustrators

Erin Sarofsky

Halley Winer

Motion Designers

Gene Park

Nik Braatz

Roman Kobryn

Mike Wilson

Music By "At Least It Was Here"